Development
The Editors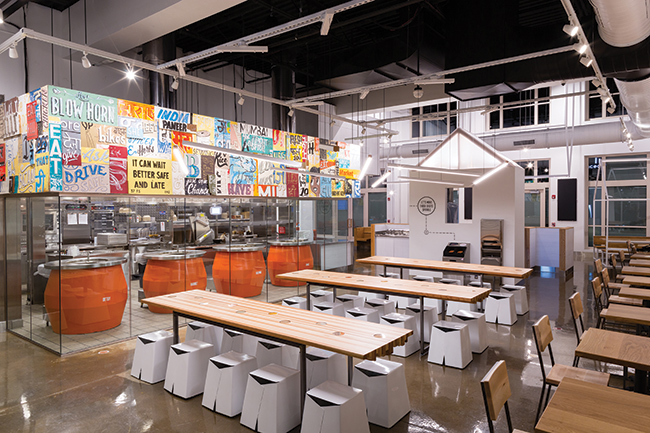 Indian dining experiences in the U.S. have long resided primarily on either end of a very niche spectrum: mom-and-pop curry house-style restaurants with lunch buffets and low prices or chef-driven operations offering fine, authentic Indian cuisine. Options in the middle for those who just want a quick and affordable Indian fix at lunch? Not so much. But that's about to change.
The Editors
The new home of Guinness in America opened in Baltimore, Md., in August. The Open Gate Brewery & Barrel House, a brewery, barrel storage, restaurant and visitor center, will be the home of Guinness Blonde as well as new beers created for the U.S. market.
Caroline Perkins, Contributing Editor
According to Yogi Berra, "The future ain't what it used to be." As it turns out, he could have been talking about today's restaurant industry. For decades, the restaurant of the future was expected to be more of the same, tweaked a little here and there but essentially featuring no significant advances. When the future arrived, it was what it used to be.
The Editors
While 87 percent of consumers order ethnic food or food with ethnic flavors, just 32 percent of them are willing to pay extra for "authentic" ethnic fare, according to a new report from market-research firm Technomic's 2018 Ethnic Food & Beverage Consumer Trend Report.
The Editors
Jamba, Inc. will push its convenience-driven formats in the Dallas-Fort Worth market with three new openings.
The Editors
With 30 locations nationwide, dine-in theater concept Studio Movie Grill (SMG) is expanding globally with new locations recently opened in North Carolina, Florida and California as well as two new overseas locations in Saudi Arabia and South Africa.
The Editors
Pokéworks signed its first master franchise agreement to take the fast-casual chain outside the U.S. and into Mexico.
The Editors
The Brass Tap signed a five-unit development deal in Modesto, Calif.