January 10, 2018
Toby Weber, Contributing Editor
Over the past several years, The Essex Culinary Resort & Spa in Essex Junction, Vt., has been redesigning much of its facility. Through this project, the resort has launched a new fine dining concept (in an existing space) that celebrates food and the overall culinary experience.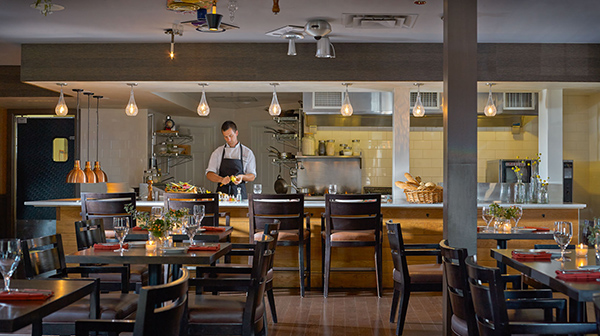 The resort describes the new restaurant, Junction, as a place where guests "feel like you're dining in the chef's own home." The centerpiece of this experience is an L-shaped chef's table with seating for eight that gives diners a direct view into the open kitchen and allows them to interact with the chef and his team.
However, all Junction guests have been given a view into the kitchen thanks to the space's set-up. According to the project's interior designer, Christine Burdick of Christine Burdick Design, a half-height wall and high-top tables that were used in the space's old concept cut off much of the dining area from the kitchen. By removing these elements, the design team has given every seat in the main dining area a direct connection with the kitchen and those who work there.
"It's very much about the personality of the chef, chatting, and understanding the food and telling the story. They've taken that beyond the chef's table and tried to make the full restaurant a true culinary connection with the diner."
In addition to giving guests a view of the kitchen, Junction was decorated with lighthearted nods to the culinary experience. The most eye catching of these are place settings that have been attached to the ceiling. These all follow different themes, Burdick says, including one child's plate with a sippy cup, an Asian-inspired setting with chopsticks, and a more romantic setting with candlesticks.
"The whole approach was to create this space where there was a lot of culinary eye-candy to look at. Because it's such a low ceiling we were limited in what we could do...Rather than ignore the ceiling, we decided to celebrate it."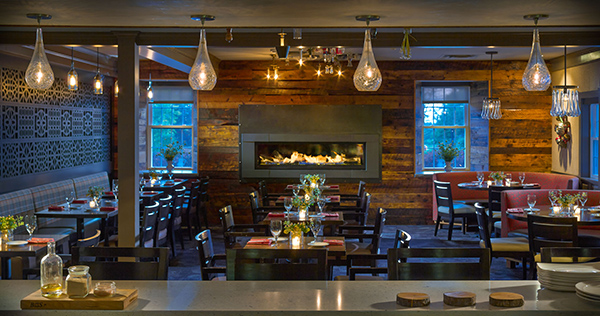 Other bits of eye candy aren't as obvious as the place settings but are visible to those who take a closer look. Junction's banquette was placed against a wall designed to look like trivets, for instance, while wall decor includes an art piece built around a bundt cake pan.
Of course, the entire space isn't eye candy. As a fine dining operation, the restaurant was given some elements to elevate the dining experience. The design team installed a fireplace clad in reclaimed wood, along with windows with extra deep sills. These elements, says Burdick, "give [Junction] character so it doesn't feel like a commercial setting."
Junction's private dining room similarly combines some lighthearted touches in an elegant space. The room has a sliding barn door, plush leather upholstered chairs, wood paneled walls and windowsills with rough stone edges. Look closer, though, and you'll see a light fixture made with colanders and spoons.
The redesign of Junction's space included showcasing its wine collection. In the previous design, the wine storage was out of site. Now, it's been moved to a space near the private dining room but visible to much of the restaurant. This allows guests to better enjoy the theater of a good bottle of wine, Burdick says. "Part of the allure when you're at this restaurant and you order a really special bottle of wine is being able to see your server take your order, get your bottle and bring it over to your table. It enhances the overall culinary experience in the space and it's also really interesting to look at."